ViewBoard® 4K Interactive Display
65″, 75″, 86″
The ViewBoard® 52 Series is a 4K Ultra HD interactive whiteboard equipped with user-centric design features and best-in-class collaboration tools for today's lessons made easy. With a single-cable solution for instant, worry-free connectivity and a unique angular design for easy access to shortcut keys and I/O ports, teachers can seamlessly connect and control for uninterrupted, flowing classes.
---
Special Features
Instant Connection via USB-C
A single-cord solution for data, video and power with no preparation or technical know-how required. Teachers simply plug-and-play for immediate presentation, whiteboarding, and collaborative functionality using the familiar software of their own device.
Wireless Connection via vCastSender
No cable required. ViewSonic's vCastSender application allows teachers to connect wirelessly through a one-time password for cable-free classes with complete functionality of the display's presentation and collaboration tools.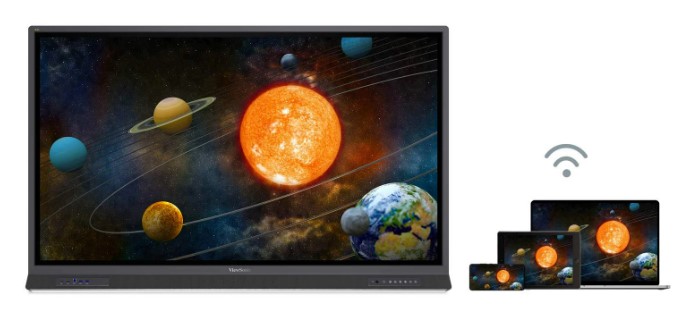 Easy Casting via myViewBoard Display
Ideal for quick presentations and guest users, myViewBoard Display allows users to cast directly to the ViewBoard 52 via their internet browser for instant screen-mirroring with no cable or download necessary.
Industry-Leading Classroom Sound
Designed to fill the classroom with robust, attention-grabbing sound, the ViewBoard 52 Series features 2X15W speakers and a 15W subwoofer embedded within the front-facing soundbar to further amplify the impact of in-class music and videos for increased overall engagement.
Immersive Soundbar
Recognizing the power of sound in student engagement, the in-built speakers are positioned front and center to fill the room with rich audio that ensures every detail can be heard.
Responsive 8-Mic Array
An in-built 8-mic array with acute noise detection and cancellation capability. Combined with another industry-first feature within the ViewBoard 52 Series, teachers facilitating distance or hybrid learning from their personal device can easily access the 8-mic array and any connected visualizer to select the most appropriate camera and mic source.
Industry-First User-Centric Design
The unique angular design puts the control buttons and I/O ports clearly in line of sight, giving teachers easier access than competing products and allowing them to seamlessly and creatively incorporate the display into classes without disrupting the lesson flow.
*Image shown is for illustration purposes only. Actual product may vary.
Easy Access Shortcut Keys
Designed for simplified control, the easily accessible shortcut keys allow teachers to instantly disable the touch function when not required and to freeze the display screen for independent use of their personal device during presentations.
Best-in-Class Collaboration Tools
The 4K Ultra HD display comes equipped with Ultra Fine Touch and palm awareness technology to deliver a completely natural writing experience with dual-pen, 33-point touch capability to support in-class or online student collaboration.
Advanced Screen Bonding Technology
By reducing the space between the glass and the panels to a single millimeter, advanced bonding technology brings even brighter, better, and clearer visuals to an already impressive display.
Advanced Eye-Care Technology
With True Flicker-Free technology, a blue light filter, and an anti-glare coating all built directly into the display hardware, the ViewBoard 52 Series offers an automatic, superior viewing experience that is both eye friendly and energy efficient.
Remote Management System
The browser-based myViewBoard® Manager application allows IT managers and verified admin users to update, schedule, broadcast and manage multiple displays simultaneously from any location through a secure, user-friendly remote management system.
Device Agnostic and Software Compatible
Designed to use the software you know, the ViewBoard 52 Series operates on Android 9.0 and is compatible with Windows, Mac, Chrome and Linux with full touch input functionality for all connected devices.
Enterprise-Grade Safety and Security
The built-in AWS-powered myViewBoard® whiteboarding software provides comprehensive and trustworthy data protection through cloud-powered security and encryption to ensure the security and safety of private files and information.
Contact us for a quote